Help for Those Providing Dementia Care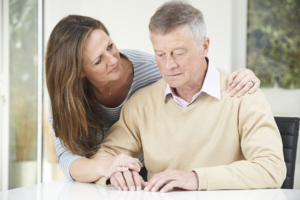 If only providing dementia care for a loved came with a handbook, rather than the trial-and-error-and-trial-again method so many of us are faced with. The different phases of the disease that have to be worked through make it even more complex; the moment we begin to feel moderately adept at handling one phase, we're on to the next.
At CareWorks Health Services in Orange County, California, we recognize firsthand just how difficult dementia care can be, and provide the following suggestions to keep in mind that may help:
Remember, you are only human. Being human means being imperfect. Expect that there will be moments you wish you could do over and other moments when you have sufficient patience to make wise decisions. Along the way, remember to care for yourself as well as your loved one; and remind yourself that you are doing the best you can.
Redirecting works better than correcting. When an individual with dementia is confused, using logic to attempt to reorient the person can lead to irritation for both of you. For instance, if the person is looking for a childhood friend, instead of explaining that this friend passed on ten years ago, ask the person to tell you more about the friend or to talk about a fun experience they shared.
Accept alternate realities. We place a high value on truthfulness in our society, and being dishonest with a senior loved one makes us feel uncomfortable. Although, if the senior truly thinks he's the author of the novel you're reading, it's often a wise decision to just play along and keep the peace.
Be realistic in both what the person can and cannot do. While our habit may be to take charge and take over everything for a person with dementia, it's much better to pause and see what he or she is still capable of doing independently. Likewise, if the individual starts to experience irritation over a task, it's time for you to step in and help.
Doctors can learn something new, too. Be sure you talk about everything you're observing in your loved one with the physician during medical visits. He or she can only provide the best plan for treatment when all of the details are on the table.
Most importantly, it's necessary for family members providing dementia care to develop a solid system of support. CareWorks Health Services of Orange County, CA is available to partner with you in delivering customized dementia and Alzheimer's care; contact us at (949) 859-4700 for more details.
/wp-content/uploads/2017/03/dementia-caregiver-tips.jpg
837
1254
cwhs-adm
/wp-content/uploads/2019/03/cwhs-logo.png
cwhs-adm
2017-03-07 10:42:58
2017-03-07 10:42:58
Help for Those Providing Dementia Care