Coordinating In-Home Care
For aging in place, it takes a community.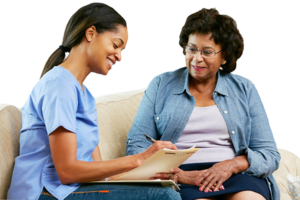 Below are some of the common services that your loved one might require to successfully age in place. To download a printable version of this information, please see the link at the bottom of this page.
Bathing
Dressing
Personal hygiene
Exercise assistance
Walking
Transfers
Repositioning
Meal planning
Meal preparation
Cleaning
Laundry
Non-medical supervision
Socialization
Companion to/from outings
Respite services
Nursing care
Physical therapy
Occupational therapy
Speech therapy
Mental health counseling
Long term planning
Advance directives
Caregiver counseling
Conflict resolution
Grief and/or end of life issues
Specialized medical:

Dentists
Optometrists
Audiologists

Assistance making appointments
Assistance keeping appointments
Coordinating medicines
Nutritional counseling
Bill paying
Checkbook balancing
Financial planning
Legal advice
Home renovations tailored to aging in place:

Installation of ramps
Installation of grab-bars
Widening of doorways
Widening of bathroom facilities
Converting tubs to showers
Adding additional lighting

Negotiation for medical insurance benefits
Review of financial issues
Review of legal issues
Review of medical issues
Education about services and benefits
Help solving Medicare/insurance problems
Review of health care bills
Review of insurance claims
Liaison for families at a distance
Daily check-in calls
Library services
Home repair services
In-home beauty services
In-home massage therapy
Senior center group activities
Adult daycare services
Crisis intervention
Home delivered prescriptions
Home delivered groceries
Church outreach ministries
Outdoor home maintenance
Money management
Assistance with personal affairs
Mailing packages
Watering plants
Fish tank maintenance
What other customized services?
Contact CareWorks Health Services today to inquire about the aforementioned services at (949) 859-4700 or (714) 421-4005 or fill out the contact form on our contact page to learn more.
Click here to download a printable PDF version of this page.
Save