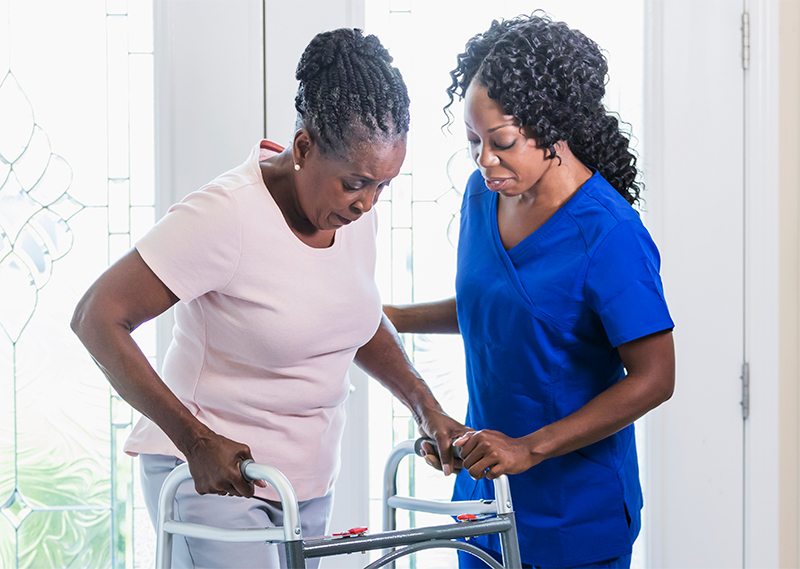 24-Hour Care vs. Live-In Care: Which One Is Best for You?
What Is Live-In Care?
The live-in care model entails having a caregiver present in the home at all times. However, that caregiver is not necessarily actively providing care around the clock. They are present at night, but the purpose of the caregiver being there is so that they are available for any emergencies that occur at night.
Live-in caregivers are required to:
Have a private bedroom in the house.
Have 8 hours of break time that includes at least 5 hours of uninterrupted sleep.
The live-in care model will most likely include two caregivers who work 3-5 days consecutively and maintain their own separate residence when not working.
When Is Live-In Care the Best Option?
When you or the senior needing care gets anxious about what emergencies may arise during the night.
When you're looking for 1:1 care while still getting the independence and comfort of home.
When you or the older adult needs a more consistent caregiving relationship with fewer caregivers.
When the idea of an aging loved one being home alone is a constant concern.
When you're looking for a more cost-effective model of care than 24-hour care can offer.
What Is 24-Hour Care?
A 24-hour care model is not drastically dissimilar to live-in care, but there are key differences that can have a major impact on a senior loved one's care experience. The main difference you'll find in 24-hour care is that the caregiver does not live in the home. Therefore, they are not required to have a bedroom.
24-hour care:
Uses two or more caregivers who work in 12-hour shifts both during the day and night
Has caregivers who are paid by the hour
Offers constant, active care throughout the day and night
So, with 24-hour care, seniors are never without the direct 1:1 attention of a caregiver.
When Is 24-Hour Care the Best Option?
When the senior wants to have someone actively engaged in their care around the clock.
When you cannot provide a private bedroom for the caregiver.
When you need to manage overnight wandering or incontinence in an older adult.
When you want the most attentive, consistent 1:1 care.
Questions to Consider When Choosing Between 24-Hour and Live-In Care
If you're considering which care model may be best for you or an aging adult you love, take account of the care needs you need help maintaining. For example, ask yourself:
How well can you manage the senior's daytime care needs by yourself?
How comfortable do you or the senior feel about them sleeping undisturbed through the night?
Do you need peace of mind around the clock but don't necessarily need active care overnight?
If the answer to any of these questions is "yes," then you may want to look further into live-in care.
Does the senior wander or need assistance getting to the bathroom at night?
Are you worried about their fall risk if they need to get up in the middle of the night?
Is the senior in need of constant, active care or monitoring at night?
If you answered "yes" to these questions, it may be best to inquire about 24-hour care.
If you or a loved one is interested in learning more about live-in and 24-hour care, contact CareWorks Health Services today! We offer live-in and 24-hour care options that offer peace of mind, convenience, and independence to older adults! To learn more about how we can help, contact us at (949) 694-5781.
/wp-content/uploads/2023/08/24-vs-live-in-care_800px.jpg
569
800
corecubed
/wp-content/uploads/2019/03/cwhs-logo.png
corecubed
2023-08-28 12:52:21
2023-08-29 02:44:06
24-Hour Care vs. Live-In Care: Which One Is Best for You?