Orange County Home Care Tips: 3 Ways to Turn Around Difficult Family Dynamics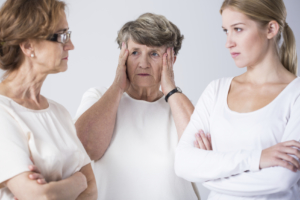 We've all experienced them: the difficult family dynamics that can cause emotions to run high, old wounds to be reopened, and strife that can wreak havoc on otherwise healthy relationships. As family members age, however, these feuds can cause even greater damage, as elderly loved ones who need a unified family support system are faced instead with the stress of division.
Is it possible to rise above past family hurts and work together for a common cause?
AARP offers the following tips to help family members overcome difficult dynamics and provide the best care as a family caregiver for a loved one:
Learn from the past. Fully letting go of past hurts may be too lofty of a goal to achieve, but it is possible to gain insight and a renewed perspective when viewing through the lens of lessons learned.
Focus on positives. If your strained relationships are like most, they're comprised of both difficult and pleasant memories. Draw from the positives and try to place your focus more fully on those.
Rely on your values. Rather than refusing to participate in caring for a loved one because of a hurt that person inflicted upon you, fall back on your core values, such as the importance of helping others and treating them the way you'd like to be treated.
A professional Orange County home health care agency, like CareWorks Health Services, can also help tremendously by providing an objective third party caregiver who can offer expert, personalized care at home to you as a family caregiver
We understand that stress levels are high even in the best of circumstances as a senior loved one experiences the challenges of aging. Our caring and compassionate experts in senior care in Orange County can help alleviate stress by assisting with some of the more routine aspects of care, such as house cleaning, meal preparation, shopping, and running errands, allowing family members to spend quality time together. Contact us any time at 949-859-4700 to learn more about our services in senior care in Orange County that area families trust.
/wp-content/uploads/2016/04/iStock_000086881111_Medium.jpg
1131
1698
cwhs-adm
/wp-content/uploads/2019/03/cwhs-logo.png
cwhs-adm
2016-05-24 11:38:23
2021-02-15 16:24:24
Orange County Home Care Tips: 3 Ways to Turn Around Difficult Family Dynamics