Home Care for the Holidays: How Holiday Treats Affect Senior Health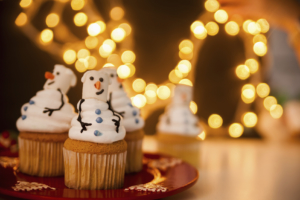 It's here: we've entered the season of sweets! From frosted cookies to amazing pies to candy canes and chocolate mint cocoa, it's very difficult to disregard the variety of amazing treats that overwhelm us, and the special feelings they stir up, especially near the holidays. But what result does this increased amount of sugar consumption have on our health and wellness? In particular, how do holiday treats affect senior health?
Sugar's habit forming qualities are well known. It releases dopamine while triggering the reward portion of the brain. Any time a lot of sugar is eaten, people establish a tolerance to these effects, requiring more sugar – a vicious circle.
As if that weren't concerning enough, added sugar (in contrast to naturally-occurring sugar) has been identified as a toxin that accentuates inflammation and increases risk of obesity, cardiovascular disease, and maybe even breast cancer. For older people, an excessive amount of sugar can increase cognitive impairment and develop into difficulties with the chronic conditions that so many suffer from.
Though it is true we don't wish to steal the holiday joy from older adults, it's necessary to keep in mind there can be healthier, yet still festive options. Our dedicated home care in Seal Beach and the surrounding areas can help create delicious, festive, and nutritious meals for seniors to keep the holidays both jolly and healthy. Call CareWorks Health Services for assistance in putting together nourishing, amazing meals that go along with dietary plans without compromising one's wellbeing.
SaveSave
/wp-content/uploads/2016/11/iStock_77720679_holiday-sugar-indulging-affects-on-seniors.jpg
1131
1697
cwhs-adm
/wp-content/uploads/2019/03/cwhs-logo.png
cwhs-adm
2016-11-16 10:22:08
2020-12-30 20:05:35
Home Care for the Holidays: How Holiday Treats Affect Senior Health