Learn How to Protect Against the New Senior Phone Scam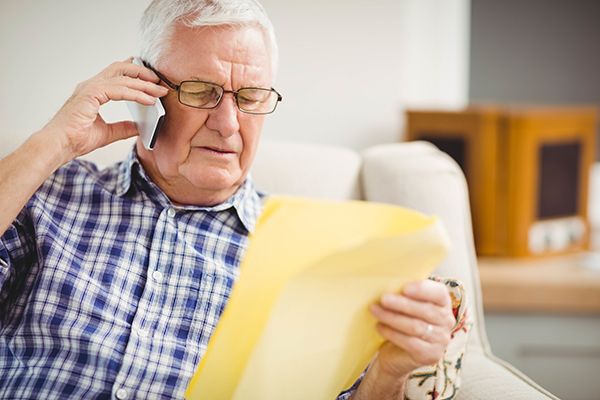 Phone scams aimed at older adults are nothing new, with an astounding $36 billion lost each year to financial abuse. And the latest senior fraud scheme circulating is difficult for many older adults to detect until it's too late. Center for Elder Law and Justice attorney Nicole K. Parshall explains, "There is always a new variation of a phone scam. Scammers are very good at developing new tactics in order to engage with specific types of individuals."
The latest company to keep an eye out for is Utility Savings Expert, which promises to cut seniors' utility, phone, cable, and other monthly bills in half. Seniors are asked to simply share account information on the bill they'd like to reduce. The company then actually pays off the bill in full, with the agreement that the senior will reimburse half of the cost by wire transfer only—no checks or credit cards accepted.
Once the senior's funds have been received, the company reverses the charge to the phone or utility company, leaving the senior liable once again for the full amount—plus the additional 50 percent they've paid to the scammers.
Older adults are frequent targets of scammers, for a variety of reasons: potential vulnerability, accumulated wealth over a lifetime, and a sense of courtesy and manners that may limit their willingness to appear rude to a caller, just to name a few. Additionally, recent research from Boston College's Center for Retirement Research revealed a decline of as much as 1 percent per year after age 60 in decision-making abilities, further contributing to the risk of falling for phone scams and fraud.
So how can you protect your older loved ones from falling prey to highly sophisticated, and often believable, scams such as these? The Federal Trade Commission urges individuals to never engage in business with an unknown entity. Another red flag arises when a company requests a wire transfer as payment. Screening calls and only answering those from known and trusted sources—and hanging up immediately on anyone who calls requesting personal or financial information—is also advised.
Sadly, many seniors fall victim to fraud simply because they're lonely and enjoy the opportunity to talk with someone on the phone. CareWorks Health Services can alleviate senior loneliness and reduce the chance of a senior scam with our professional in-home care companionship and caregiving assistance. Call us to learn more about how we can keep your senior loved ones safe and secure.
/wp-content/uploads/2018/05/concerned-senior-man-on-phone.jpg
400
600
cwhs-adm
/wp-content/uploads/2019/03/cwhs-logo.png
cwhs-adm
2018-05-17 13:49:31
2019-12-27 22:13:12
Learn How to Protect Against the New Senior Phone Scam