Providing Senior Care at Home After a Hospitalization: How to Keep an Older Adult Safe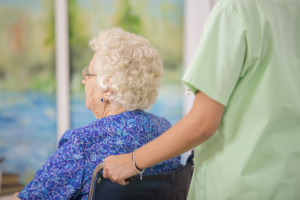 Think about this possibility: your 90-year-old mother, who lives in her own home alone, fell recently, cracked her pelvis, and is being released from the hospital today. Sorting through and reading her discharge paperwork, you notice the doctor's orders for a number of different medications, ongoing physical therapy, a medical checkup appointment that needs to be scheduled, and a number of symptoms to be on the lookout for that could result in a return to the emergency room.
With a full-time job and family of your own to care for, is it possible to make sure she adheres to her recovery plan and is kept safe from an additional fall? Nowadays, family members are more often accepting the role of caregiver for their senior loved ones – as many as 44 million and up, according to the AARP. And after a hospital stay, the senior care at home typically needs to be more intense in order to keep your loved one safe and prevent another trip to the E/R.
The following information can assist family caregivers in providing the safest possible senior care at home and help prevent a re-hospitalization:
Research information. Ask the medical team as many questions as you need to in order to feel confident you can give the proper care. Don't forget to ask about what symptoms to be aware of and who to phone for assistance.
Take care of yourself. The stress of providing care for a loved one can take both a physical and emotional toll on caregivers. Be sure to take time for relaxing and enjoyable activities, get plenty of rest, and eat a balanced diet.
Network with others. Family members tend to feel they need to do it all themselves, but it's really important to have a list of handy resources to help: friends, extended family, neighbors, even a support group on which to lean.
Keep CareWorks Health Services in mind as well. Our specialty is providing the highest quality, professional senior care at home that keeps older adults safe and helps them experience a swifter recovery following hospitalizations. Give us a call any time at 949-859-4700. We will provide the best care when you are not able to be there.
/wp-content/uploads/2016/06/iStock_48832322_MEDIUM.jpg
1131
1697
cwhs-adm
/wp-content/uploads/2019/03/cwhs-logo.png
cwhs-adm
2016-07-25 10:34:36
2016-07-25 10:34:36
Providing Senior Care at Home After a Hospitalization: How to Keep an Older Adult Safe