Are Those Vitamin Supplements REALLY Safe for Seniors?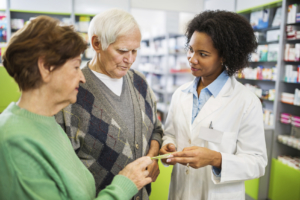 Seniors who care about their health make sure to include a variety of food groups in their diet, get plenty of sleep, and exercise. They are also likely to begin their day with a dose of daily vitamins to ensure they're meeting that "recommended daily allowance" of nutrients. Isn't that what the experts advise?
Latest research, however, warns of the dangers associated with combining certain prescription medications with over-the-counter vitamins and herbal supplements. In some cases, these combinations can even be deadly, such as the interactions between blood pressure drugs and supplements such as omega-3 fish oil. According to Dr. Dima Qato, a University of Illinois assistant professor of pharmacy systems, "A medication or supplement may be safe and beneficial when you use it alone, but when you mix it with other medications or supplements, it can be very dangerous."
It's crucial to be vigilant about providing our healthcare providers with a list of all medications being taken, including any supplements, so that each physician is not only aware of, but has approved of, these combinations.
Learn more about the study and some particularly dangerous med combinations, and call on CareWorks Health Services for more tips on keeping seniors healthy and safe. We provide a wide range of home health care services in Orange County, California to meet each senior's needs today, while being prepared to meet any additional needs that may arise in the future. Just a few of the ways our California home care can help your senior loved one include:
Help with daily life assistance, such as house cleaning, laundry, meals, bathing, ambulation, and more
Serve as a friendly companion, engaging in fun activities, hobbies, and outings
Provide skilled nursing care, such as wound care, catheter/tube management, IV and blood pressure monitoring, and more
Offer physical and occupational therapy services when needed
Set up and train on technology solutions, like our grandPad program to keep seniors connected with loved ones
And much more
We invite you to contact us any time at 949-859-4700 to allow us to answer your questions about home care in Mission Viejo and the surrounding California communities.
/wp-content/uploads/2016/04/iStock_000041747606_Medium.jpg
1131
1698
cwhs-adm
/wp-content/uploads/2019/03/cwhs-logo.png
cwhs-adm
2016-05-03 11:21:06
2021-04-23 20:43:04
Are Those Vitamin Supplements REALLY Safe for Seniors?