Home Care Helps: Overcoming the Stigma of Mental Illness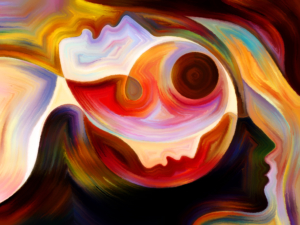 It's long been a hush-hush topic, and the stigmas continue today, but mental illness, in one form or another, affects at least tens of millions of Americans. As home care experts, in honor of National Mental Health Month, we at CareWorks Health Services wants to help those struggling with mental illness to break the chains of silence, and in particular, to encourage them to seek the treatment that can improve their quality of life.
Slowly but surely, movie stars and others inside the limelight are beginning to frankly and vulnerably express their own difficulties with such debilitating ailments as anxiety and depression. Nevertheless, we continue to have a long way to go. Significantly less understood and more negatively viewed conditions, such as psychosis and schizophrenia, are still regularly covered over. In reality, research obtained from the National Institutes of Health suggests that a psychosis diagnosis is the most highly stigmatized and discriminated against mental health issue.
Frighteningly, this anxiety of stigmatization is building up "a pervasive barrier that prevents many individuals in the U.S. from engaging in mental health care," according to a 2014 literature review published in the Administration and Policy in Mental Health and Mental Health Services journal.
So, how can we help people that have mental health concerns actually feel safer in conveying their challenges, enabling them to receive the treatment they need? Quite a few mental health advocacy organizations are making strides. For example, the National Alliance on Mental Illness (NAMI) has generated the Stigmafree Pledge to help develop awareness and acceptance. And, the American Psychological Association (APA) has created an academic journal, Stigma and Health.
For more assistance with mental health issues and to learn just how home care can assist, contact CareWorks Health Services.
/wp-content/uploads/2016/10/161001_article3_overcoming-stigma-of-mental-illness.jpg
2700
3600
cwhs-adm
/wp-content/uploads/2019/03/cwhs-logo.png
cwhs-adm
2016-10-15 03:38:06
2021-01-28 23:06:08
Home Care Helps: Overcoming the Stigma of Mental Illness